When I was reading through the hiking book months ago.  I stopped on this hike and thought about how I would really like to do this one.  I am pretty sure that I had never done this hike before.  I had been to the the other end of the lake and seen the waterfalls, but I am pretty sure we took a boat there.
This time we did not see the waterfalls.  We did not make it that far.  I think we got pretty close though.  I am guessing here, but I think we got 2 or 3 miles before we turned around.  Which would make the entire hike four to six miles, which is a bunch for me.  I am pretty sure the falls are about 4 miles in.
I have been kinda down on myself for not doing more epic hikes for this project.  I have been reluctant to give an entire day to it, which means I have been staying close by and choosing short hikes.  The one thing that could let me do a whole day was if I made it a Jorge and I experience.  What made it even more ok was to make it a social call as well.  So I didn't do this one solo.  I brought my eight year old son, and we met my good friend Joel.  Joel is doing the best job at social distancing of any one I know.  Hiking was a good thing for us to do together.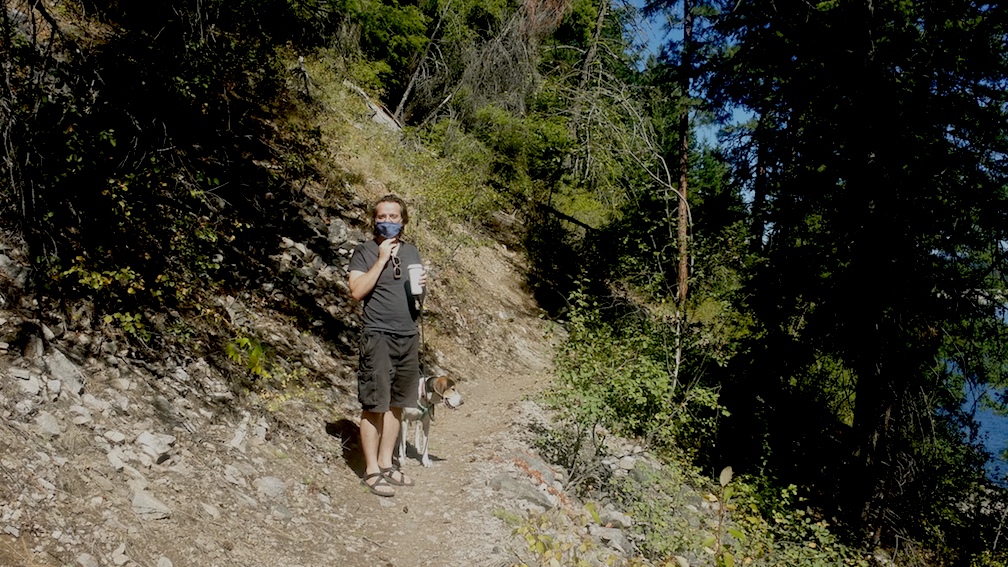 Lake Como is 59 miles south of Missoula.  I had to give my god daughter, Sydney, a ride to Corvallis anyway, so it wasn't much farther from there.  Jorge has gotten super good at these fairly long drives and for that I am grateful.
We got to the parking lot the same time as Joel which was nice.  We had to pay.  It is $5 for a day pass at Lake Como.  It is totally worth it.  Funny though, when I was a kid I remember coming to Lake Como all the time.  I grew up in Hamilton, which is only 14 miles from there.  But once the day fee was put into effect, I only remember going there once or twice with other people that weren't in my family.
The trail starts out as a paved interpretive trail.  For a 1/3 of a mile it is pavement, which I hate.  And signs about the area, which I love.  We learned that if you smell the crack on a Ponderosa Pine that it smells like vanilla.  I can't believe I didn't know this previously.  We kept stopping to smell trees.  It was lovely.  The hike is great because it doesn't have much change in elevation.  The only bad thing was that it was usually steep below the trail and above the trail and when we met other hikers it was hard to get off the trail for them.
Jorge asked why we got off the trail for them and no one gets off the trail for us.   And I told him that it is because we are trying to win at the courtesy game.
We hiked until I felt my body go out of whack and then start to hurt.  And then we climbed down to the lake and played in it a bit.  Jorge and I took our shoes off and waded into it.  But the lake is very low and the floor of the lake it very muddy.  Our feet would sink into it.  But it was still refreshing.  We got our hats wet to cool off.  It was beautiful.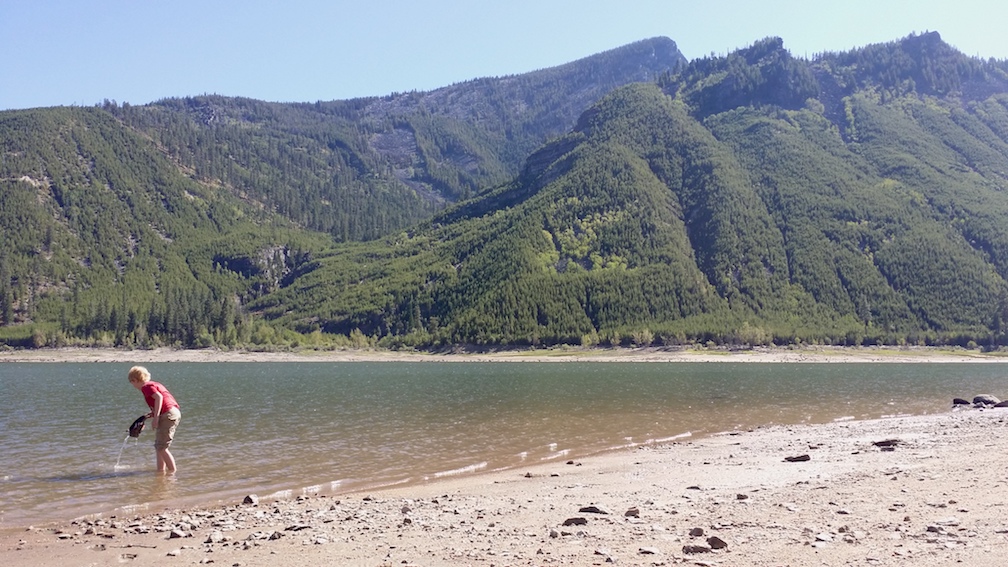 Then we climbed back up the side of the mountain and walked back.  It was a great day trip.  We left at 11a.m. and got back at 7p.m.